Multi-Unit Residential Canada Housing Program
Why Are Housing Providers Across Canada Acting Now?
Grand HVAC Leasing ("GHL") is an industry leader at delivering water heating and HVAC program solutions for housing providers across Canada, while maximizing on financial incentives. GHL employees and associates connect key stakeholders such as Manufacturers, Utilities, Contractors, and decision makers to provide customized solutions.
GHL are experts at providing unconventional financial solutions for multi-unit complexes with individual appliances or centralized systems, for equipment upgrades, replacements, or new construction.
GHL provides bundled solutions to help housing providers make sound business decisions, backed by customized programs. Customers can proactively upgrade and enjoy immediate benefits, including:
Start saving by upgrading to higher efficient equipment now
Protect property by replacing aging and potentially leaking assets
Improve financials by taking advantage of cash and incentives
Reallocate capital to other needed projects
Offset monthly operating costs with incentives and energy savings
GHL provides consumer and commercial water heating and HVAC solutions on equipment such as boilers, make up air and roof top units, water softeners, space heaters, fireplaces, water heaters, and air conditioners.
Multi-fuel source equipment rentals are also available.
It Pays to Upgrade
Housing providers who have benefited:
Regions & Counties
City Housing
Property Managers
Non-Profit Housing
Co-Operatives
Condo Boards
Private Owners
Top 10 Reasons to Upgrade & Start Saving Today!
When you upgrade your HVAC and/or water heating equipment in complexes/townhomes to Grand HVAC Leasing you are committing to making a difference. Here are some of the benefits you will receive when making the switch:
NEW energy efficient equipment: Upgrade and enjoy immediate energy savings.
NO capital outlay required:  Equipment and installations costs covered by GHL.
Cash Incentive of up to $150.00 per unit: GHL Cash incentives options customized by project.
Utility and/or government rebates: All existing incentives directly benefit housing provider.
Code compliant updating: All equipment installed will become 2017 gas code compliant.
FREE venting upgrades** on most ABS type venting, where applicable.  **TBA upon site inspection
Includes removal and return or scrap of existing equipment.
Bundled ongoing service and maintenance included:  No unexpected service costs - EVER.
End of term leasing options available: provides customer-specific convenience.
Grand HVAC Leasing Customer Promise ensures you have professional and courteous service available when you need it.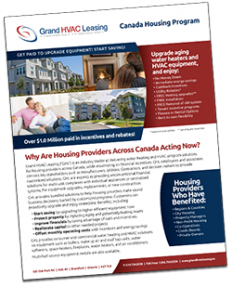 More Information
For more information on this program or to set up an appointment to have your units assessed, please do not hesitate to contact me at your convenience! Download the brochure here.
Leo Probo
National Business Development Manager, North America
905-977-8659
lprobo@grandhvacleasing.ca
www.grandhvacleasing.ca