ATB Banking Program
We are pleased to offer ANPHA members an exclusive banking program with ATB Financial. Whether looking to save money, enhance employee benefits, or access financing to make your plans come to life, building capacity successfully in the non-profit housing industry relies in part on financial opportunities and connections.
ANPHA has chosen to partner with ATB because of their interest in supporting affordable housing, and their Alberta-focused mandate as a Crown corporation owned by the Province of Alberta. In addition, ATB offers services in over 240 communities in the province. 
The ANPHA Banking Program can provide members with banking and financing options suited to your organization's needs. For more information contact information and a Program Brochure can be found below.
Program Benefits
Savings on operational/day-to-day banking services
Benefits for ANPHA members' employees
Customized project financing options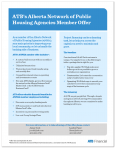 ATB BANKING PROGRAM BROCHURE
For more details about how ATB's Banking Program can help you and your organization, please feel free to download the brochure here.