Non-Profit Insurance Program
Uniquely designed for non-profit housing providers.

ANPHA, in partnership with Foster Park Brokers, is pleased to offer it's members an exclusive full suite of insurance offerings available at an exceptionally competitive rates, designed specifically for Alberta's non-profit housing sector. At ANPHA we are proud to help build capacity by providing value-added options for our members.
Saving money from rising overhead costs allows our members to put funds toward other important matters. This is the only program in Alberta designed with non-profit housing in mind. Many of our members across the province have already signed up with ANPHA's insurance program, saving thousands of dollars per year.
The ANPHA insurance program offers coverage in three categories of ratings
to capture the diversity and uniqueness of our members' operations.
Non-Profit Housing
Options for non-profit and public housing organizations, social housing, subsidized housing providers and general
Elder Care
Options related to long-term care, nursing homes, retirement homes, seniors, independent living residences.
Community Services
Options for advocacy, voluntary and service groups serving the elderly, disabled, or disadvantaged. (Food banks, shelters, etc.)
An extensive suite of core and optional coverage options are available.
Liability (general, property, etc.)
Environmental liability
Equipment breakdown
Cyber risk
Comprehensive crime
Entity abuse
Directors + Officers
Commercial auto
Tenant Coverage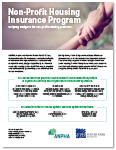 NON-PROFIT HOUSING INSURANCE PROGRAM
For more details about how Foster Park Brokers' Non-Profit Insurance Program can help you and your organization, please feel free to download the brochure here.